March 28, 2011
"El Faro" - a quarterly newsletter about the residents of Magdalena Bay
By Veronica Rangel
We present the first number of El Faro, a quarterly free newsletter of 5,000 copies produced for the Magdalena Bay communities of Puerto San Carlos and Puerto Adolfo Lopez Mateos in Southern Baja California. El Faro is meant to foster local capacities for coastal and marine ecosystems conservation within the lagoon complex of Mag Bay and nearby communities.
In our coastal conservation program we know that a well-informed population with high pride of belonging can make better decisions towards development and ways of taking care of their surrounding environment. Therefore, with El Faro we are creating a public space for communication where locals participate with their voices, their images and knowledge. It is a space for individuals, local and regional groups and research institutions; voices of rural, coastal and urban children, youth, adults, women and men can be found in it. There is room for those who wish to contribute to improve the locals' work, communication and decisions. Each number of El Faro contains at least 70% of material and inf ormation created by local groups and individuals.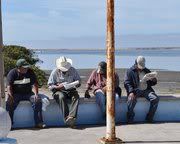 This newsletter is about the people and the pristine places where they live for we want to tell the world about their breathtaking landscape, their coastal and marine resources abundance and other attractions that make us wish to spend time there and take a piece of it with us in images and memories within our hearts.
With the help of volunteers and collaborators El Faro is being distributed in strategic places such as stores, restaurants, hotels, schools, libraries and cooperatives in San Carlos, Lopez Mateos, Cd. Constitucion, Cd. Insurgentes and La Paz. Last March 11, Costasalvaje was in Lopez Mateos presenting and distributing the first 1,000 copies for a community of approximately 2,500 inhabitants. On March 12 and 13 we were in San Carlos for the XVI Gray Whale Festival where another 3,000 copies were distributed in this community with a population of approximately 5,000.
The next number of El Faro will come in June. If you wish to receive the electronic version in Spanish please write to elfaro@costasalvaje.com.
Editor
Verónica Rangel – Costasalvaje
Production and Writing
Adilene Ozuna – Vigilantes de BM
Edith Solís – Vigilantes de BM
Jorge Luis Gámez – Grupo Ambientalista Emprendedores del Pacífico
Guadalupe Mazín Pérez – Escuela de Campo
Eréndira Aceves – Niparajá
Meredith de la Garza – Niparajá
Antonio Diego Fernández – Grupo Tortuguero de las Californias
Collaborators
José María Beltrán
Bryanda A. Beltrán Romo
César García
Noé Jezrreel García
Armando González
Gustavo Hinojosa
Gabriel Moreno
Eduardo Nájera
Aída Navarro
Graphic Design
Antonio Martínez